Kate Moss Oxford Street hoarding collapse: Oracle Interiors fined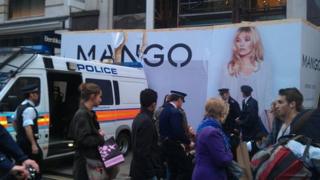 A building firm has been fined £10,000 after one of its hoardings fell and crushed more than a dozen shoppers in London's West End.
The 15ft hoarding, covered by an advert featuring model Kate Moss, caused life-changing injuries to three shoppers on Oxford Street in March 2012.
Oracle Interiors admitted the one tonne fencing breached regulations during a refit of fashion store Mango.
The Wiltshire-based company was also ordered to pay £13,000 legal costs.
Westminster Magistrates' Court heard four people were taken to hospital after the hoarding collapsed on London's busiest shopping street, trapping about 20 people.
Three people hurt in the collapse are in the process of bringing civil claims against the company, the court heard.