Extra 500 buses planned for growing capital before 2021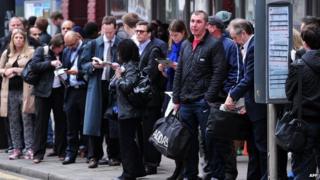 More than 500 extra buses will be brought into use on London's roads to cope with population growth, Transport for London (TfL) has said.
Investment of £200m will also be earmarked for improving the reliability of the bus service, it added.
The draft plan, which sets spending until 2020/21, will be considered by the TfL board on 12 December.
The Liberal Democrat's said the plan was going "in the right direction" but would not keep up with demand.
Caroline Pidgeon, from the party and of the London Assembly Group, added: "I fear the current plans will not keep up with the increased demand across the capital.
"Every day passengers make twice as many bus trips as by the Tube."
London's bus network carries 6.5m passengers every day, according to TfL.
Growth areas
It said the capital's population was growing faster than any other European city. According to the Greater London Authority, the population is set to increase by 37% to more than 11m by 2050.
The extra buses would be used in key growth areas, such as Barking Riverside and Elephant and Castle, providing bus routes between new residential areas and local town centres.
They will allow 2.9m extra customer journeys per week, said TfL.
There are also plans to increase the capacity of London Tramlink on the Wimbledon to Croydon line by half, while there could be an extension of the Tramlink network within the next decade.
London's transport commissioner Sir Peter Hendy said: "The number of passengers on the bus network is at its highest since 1959 and this investment will help address the growing demand, improving customers' journeys, bus reliability and customer satisfaction."