London Tube's lost property treasure trove
By Andy Dangerfield
BBC News, London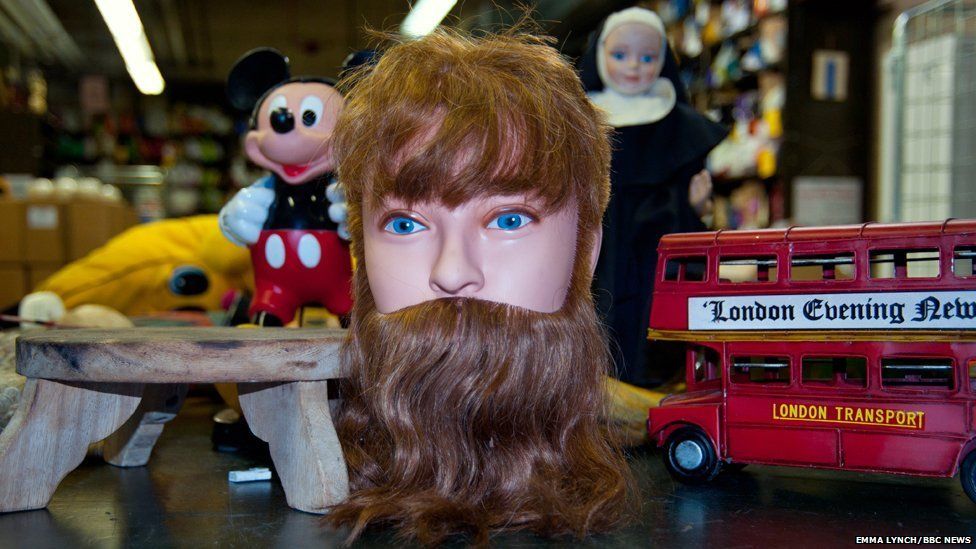 Transport for London's Baker Street lost property office marked its 80th anniversary this year. Take a look at some of the weird and wonderful things passengers leave behind.
Paddington Bear could have ended up there. False teeth, prosthetic limbs and thousands of mobile phones have ended up there. But who leaves breast implants on the Underground? Or, for that matter, their wedding dress?
The answer to these questions remains a mystery, as their owners are yet to be found.
Ever wondered what happened to that brolly you left on the District Line, the one you really needed when you got to the other end and found it was raining? It is probably in among the other 10,907 umbrellas lost in the past year on London's public transport.
When items come into the office, their details are entered into a computer system rather aptly called Sherlock, after the Lost Property Office's fictional Baker Street neighbour.
Each piece of lost property is tagged with a description and date, receiving a red label if it was found in a taxi, a white one if it was left on a bus or a yellow one if it ended up on a train or at a station.
Within the three-storey building, sits a stuffed puffer fish, a gas mask and hundreds of lost teddy bears. There is also a hairdressing mannequin head, which looks as if an aspiring stylist was practising hipster haircuts.
And how did a school crossing guard forget to take their lollipop with them when they got off the Tube?
The top five items left on London's Transport network in 2014
Mobile phones - 20,309
Travelcard wallets- 18,433
Wallets - 11,580
Umbrellas - 10,908
Keys - 10,790
William Mombo, who has worked at the office for eight years, said: "We'll sort through the items to look for identification, which if we find, we'll write to the owner."
But to avoid items ending up with the wrong people "we say we have something that might be yours rather than telling you what it is".
Nearly a quarter of items that pass through the office are reunited with their owners. Higher value items, such as mobile phones have a better success rate, with up to half being returned.
The muffled cacophony of mobile phone ringtones signals the site of the unclaimed phones, which are stored in padded brown envelopes.
It is a sign of the times that they have supplanted gloves and umbrellas as the items most likely to end up in the lost property office.
There has also been a "big increase in tablets and e-readers handed in", says Mr Mombo.
In fact 2014 saw more lost items handed in than any of the previous 40 years. Perhaps it shows Londoners are becoming a more honest bunch, or simply getting more careless at leaving their stuff lying about.
After three months, unclaimed items are dispatched down a spiral slide to the office's lowest floor.
Most of the items are donated to charities including the Salvation Army and British Red Cross, with others being recycled, disposed of, or auctioned.
And in case you were wondering about the lost teddy bears, a happy ending may well lie in store.
The Salvation Army will be delivering more than 200 teddies, dolls and toy cars to those who may otherwise have gone without this Christmas.
Related Internet Links
The BBC is not responsible for the content of external sites.