Father in court over murder of adopted son Shaun McSweeny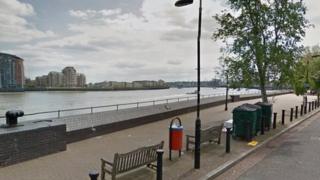 A retired fireman has appeared in court accused of bludgeoning his adopted son to death with a scaffolding pole.
Colin McSweeny, 58, of Parry Road, Thornton Heath, near Croydon, is charged with murdering Shaun McSweeny on 21 November.
The body of the victim was found by police in the boot of a car near the River Thames the following morning.
Shaun McSweeny, who was 24, had suffered head injuries.
Police had responded to a call just before 03:00 GMT about a man believed to be attempting to put a body in the river at Deptford Wharf.
A date for a plea and case management hearing was set for 10 February and a trial of up to 10 days was scheduled to begin on 1 June.