Campaign to save floating Word On The Water bookshop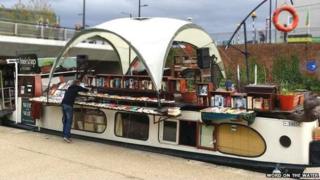 A campaign has been launched to help save London's floating bookshop.
Word On The Water has been trading on the River Thames for the last four years and had applied for a permanent mooring on the Regent's Canal at Paddington.
This was turned down by the Canals and River Trust. It awarded the mooring to British Land which will open a coffee shop and information centre.
The bookshop's owner wants another mooring to be made available.
Previously, bookshop owner Paddy Screech has had to travel up and down the river staying at each spot no more than about two weeks at a time.
But in the last year he has settled in Paddington, an area which he said was "starved of bookshops".
A petition has been launched in support of the floating shop.
"Until this blew up we started to arrogantly think of ourselves as the future of bookshops.
"If it goes the legal route then we're in trouble as we can't afford a lawyer as we don't really have any money.
"I'd be very crestfallen as it's been a long four years, so it would be a shame to nip it in the bud just as we're starting to attract attention," he said.
The Canals and River Trust charity said eight other enterprises had applied for the same permanent mooring. It said the trust had a responsibility to secure the best deal possible for the canal.
"We're looking into the suitability of other trade moorings and welcome ideas from roving traders," it said.
"There are so many places and people in London that would benefit from a bookshop floating up and flinging open its doors, we really hope that Word on the Water continues for years to come."