Tessa Jowell plans to run for London mayor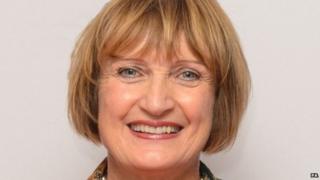 Labour's former culture secretary Tessa Jowell is planning to run for mayor of London in 2016.
She told the BBC she was "certainly planning to run" to become Labour's candidate to replace Boris Johnson.
The MP said she did not plan on formally declaring her candidature until after the general election in May 2015.
Dame Tessa said she wanted to have "a very clear set of policies" before she made a formal announcement.
The Dulwich and West Norwood MP said now "isn't a time for formal declaration", but that she is "certainly working on a bid to be London mayor".
She said she was "working on policy answers to what are the big questions facing London" but before her official announcement would be "helping Labour MPs and candidates in marginal constituencies to win their seats".
Labour runners
Dame Tessa would come up against David Lammy and Christian Wolmar, who have formally announced they plan to seek Labour's candidacy to become London mayor.
Other Labour figures including Dianne Abbott, Margaret Hodge and Sadiq Khan have also been touted as potential candidates.
---
Tessa Jowell's career
First elected to Parliament in 1992
She was culture secretary from 2001 until 2007 and later served as paymaster general
A key figure behind the London bid for the 2012 Olympics
Served under Labour Prime Minister Tony Blair and his successor Gordon Brown and was known during her time in government as one of Mr Blair's most ardent supporters
Was made a Dame in the Queen's Birthday Honours list in 2012
Announced in November 2013 she would stand down as an MP at the 2015 general election
---
Labour's contest will take place between May and July 2015 before the mayoral election in May 2016.
In October, the Labour Party announced details of how it would choose its next candidate for London mayor.
Any Londoner who supports the party will be able to take part by signing up and paying £3. They will then vote for their preferred candidate.
But Ms Abbott, Mr Lammy and Mr Wolmar have all said they are unhappy with the proposed timetable.
In August the current London Mayor Boris Johnson ended months of speculation by saying he would seek to become an MP again at next year's general election.
Mr Johnson promised to see out his current term as mayor, which ends in 2016.