Jimmy Mubenga trial: Jury put in handcuffs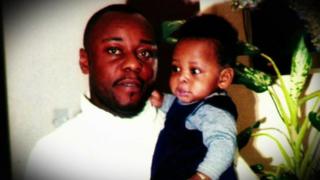 Jurors were put in handcuffs to find out how an Angolan deportee would have felt before he collapsed and died on a plane as it was leaving Heathrow.
Six out of the 12 jurors sat in a mock-up Boeing 777 to recreate where Jimmy Mubenga, 46, was pinned down.
Three G4S guards are on trial accused of causing his death.
Colin Kaler, 51, from Bedfordshire, Terrence Hughes, 53, from Hampshire, and Stuart Tribelnig, 38, from Surrey, deny manslaughter.
They are said to have restrained him while the plane was about to take off at Heathrow Airport.
The Old Bailey has heard the men disregarded their "duty of care" by ignoring Mr Mubenga's cries that he could not breathe until it was too late.
Mr Justice Spencer cleared the dock and public gallery to enable jurors who wanted to be put in the same type of rigid double locking handcuffs Mr Mubenga was put into.
They took turns to sit in the same seat position as Mr Mubenga - middle of the back row.
They were then told to place their hands on their head before their right hand was cuffed and placed behind their back by a police officer, and then their left hand was locked in position too.
As well as taking a position where Mr Mubenga would have been restrained with his head down, two or three of the jurors also took up the place where one of the three guards would have leaned over the seat in front, kneeling.
The court has heard when Mr Mubenga was taken onto the plane on 12 October 2010, he was healthy and had co-operated with the guards.
While on the plane, he became upset which led them to restrain him in his seat.
After 35 minutes he had gone into cardiac arrest and was pronounced dead in hospital later that night.
The trial continues.