Jimmy Mubenga: Second passenger recalls deportee cries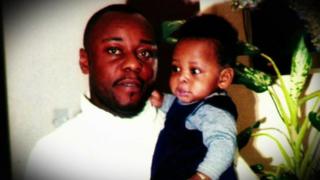 A deportee who died after being restrained on a plane by three G4S guards cried out: "All you people are watching them kill me," before he collapsed in his seat, a court heard.
Angolan national Jimmy Mubenga, 46, died on 12 October 2010.
Passenger Nicholas Herbig told the Old Bailey he heard what Mr Mubenga said.
Colin Kaler, 51, from Bedfordshire, Terrence Hughes, 53, from Hampshire, and Stuart Tribelnig, 38, from Surrey, deny the manslaughter of Mr Mubenga.
'Scary situation'
A total of 159 travellers had boarded the Boeing 777 at Heathrow airport when Mr Mubenga became agitated and was pinned down by the guards, handcuffed and with his seat belt on.
The guards are accused of disregarding their "duty of care" by ignoring Mr Mubenga's cries that he could not breathe until it was too late.
Mr Herbig from New Mexico was asked by prosecutor Mark Dennis QC what he had seen and heard as he boarded the plane.
He said: "I could hear somebody being loud, like he did not want to be there. The one guy was very loud. He was saying 'all you people are watching them kill me. I can't breathe. They are going to kill me."'
The court heard he looked over his right shoulder to see two men on either side of Mr Mubenga and another leaning over the seat towards him.
He said: "It did not look like they were physically hurting him. It just seemed like he did not want to be on the flight. I was trying to mind my own business."
After a while, Mr Mubenga became "hunched over" at the rear of the plane, out of Mr Herbig's view, the jury was told.
He recalled airline staff moved women towards the front "because it was a kind of scary situation".
On Monday, the court heard from another passenger, David Brown, who said he heard Mr Mubenga saying "I can't breathe".
Before Mr Mubenga was taken onto the plane, it was claimed, he had been fit and healthy and co-operated with the guards but he became upset after leaving the plane toilet, which led to him being restrained.
A member of the cabin crew raised the alarm while the aircraft was taxiing for take-off.
But Mr Mubenga had gone into cardiac arrest and was pronounced dead in hospital later that night, the court has heard.
The trial continues.