Owner of lost Cenotaph Remembrance Service medals found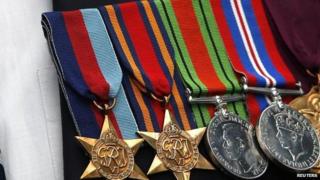 A war veteran has been reunited with medals left at the Cenotaph following Sunday's Remembrance Service.
The medals were found by Cliff Palmer who is in the Royal Navy and attended the commemorations.
He posted a photograph of the medals on Facebook, appealing for the owner to come forward. The photo was shared and retweeted thousands of times.
Lost Box, a website looking for owners of lost items, helped locate the owner.
The owner of the medals was found an hour after the website posted that the medals had been lost on Sunday evening.
The website is yet to reveal who the owner of the medals is.