Tower of London poppies: Tributes places outside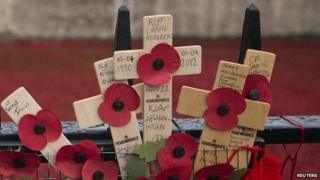 Tributes to those killed in armed conflicts have been placed on the fence around the Tower of London poppies.
Small crosses with poppies on have been placed by loved ones of those who have died in both past and recent wars.
It comes as it was announced that part of the popular artwork will tour the UK until 2018 before being placed at the Imperial War Museum.
The installation of the 888,246 poppies will start to be dismantled by a team of about 8,000 volunteers on Wednesday.
Entitled Blood Swept Lands And Seas Of Red, the installation is the work of ceramic artist Paul Cummins, from Derbyshire.
Each poppy represents each British and Commonwealth death during World War One.
The weeping window and wave segments will be removed last and will be on show until the end of the month.
The tour of several thousand of the ceramic poppies will last until 2018 but no schedule has been set yet.
The announcement comes as services were held to honour members of the armed forces killed in conflict.
At the Tower of London, crowds bowed their heads to remember the country's fallen during a two minute silence.
Among the crowds was Bradley White, 28, from Essex, who joined the Army at 16 and served in both Iraq and Afghanistan where he was shot in the left leg during an ambush.
"I saw the poppies a few weeks ago. Seeing it all finished now just shows the scale of the sacrifice," he said.
"It is quite emotional when you look at the sheer scale of it. When we were out in Afghanistan we lost nine soldiers, and numerous more since. So, it does bring back poignant memories from when we were out there."
'Much loved'
Huge demand from the public sparked a campaign to keep the installation in place longer.
Floodlights are already being used to ensure more people get to see the piece created to mark the centenary of the start of WWI.
The wave is a steel construction made of poppies surrounding the entrance to the Tower of London while the weeping window depicts poppies falling from a window on the top floor of the Tower.
Up to four million people are expected to have visited before 12 November.
---
World War One Centenary
---