Tower of London poppies: Floodlights will be on for longer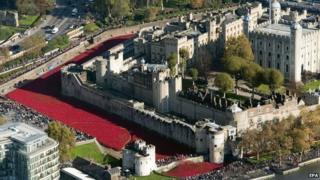 The ceramic poppies at the Tower of London will now be lit until midnight so more can people can view them.
Historic Royal Palaces said it would extend the illumination for an extra hour in the evening and turn the lights on earlier in the morning.
About four million people have so far seen the artwork, called The Blood Swept Lands And Seas Of Red.
Each of the flowers represents a British military fatality during World War One.
The lights will now be switched from 04:30. Currently the poppies are illuminated from 05:00 until dawn and from dusk until 23:00.
The final poppy will bring the total to 888,246 and will be planted on Armistice Day.
About 8,000 volunteers will start to remove the poppies from 12 November.
There have been calls from Prime Minister David Cameron and Boris Johnson, the Mayor of London, to extend this date, because of the number of visitors to the installation.
However, the artist Paul Cummins said he would rather his creation did not stay in place beyond next Wednesday.
Elsewhere in London, numerous events have taken place to mark 100 years since the start of World War One.
In King's Cross station, rail workers who died in the war were remembered by about 100 serving and retired forces personnel who lined a platform next to a train which was covered in a commemorative wrap featuring images, stories and tributes to regiments.
Transport Secretary Patrick McLoughlin said: "Today's ceremony and the For the Fallen locomotive are a moving reminder of the sacrifices made by our forefathers in the Great War and in wars since.
"It is important that we remember their sacrifice and that we never forget the lessons of the past."
A sculpture which depicts a brass figure, based on the Unknown Soldier, was unveiled in Trafalgar Square.
It is contained in a Perspex obelisk among poppies that blow in the air around him.
Artist Mark Humphrey said: "The soldier stands in a field of poppies, the poppies flutter up and softly fall, paying tribute to each and every one for their sacrifices made.
"The Centenary Soldier is a symbol of reflection living on with pride, marking 100 years since the war."
The sculpture will be in Trafalgar Square until 16 November, when it will go on a four-year tour of Britain.
And the Greater London Authority held its annual service of remembrance at City Hall earlier on Friday.