London 'Guy Fawkes' protest sees 10 people arrested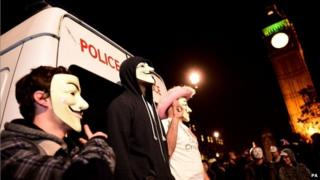 Ten people were arrested as thousands of anti-establishment activists marched through central London to protest against political oppression.
Protesters wearing Guy Fawkes masks marched from Trafalgar Square to Parliament Square as part of the Million Masks March, organised by activist group Anonymous.
Three people were held on suspicion of assaulting police officers.
Anonymous said the protest was against austerity and infringement of rights.
'Refused to engage'
Also among those arrested were three people held on suspicion of public order crimes, one man in his 20s for attempted grievous bodily harm (GBH), another for an alleged firework offence, and two on suspicion of obstruction of the highway, the Metropolitan Police said.
Ch Supt Pippa Mills said: "Police officers this evening worked under challenging conditions. Despite numerous attempts, the organisers refused to engage with us ahead of the evening's events.
"Our policing operation and work with our partners ensured that on the whole, the event passed off without major incident."
Protesters chanting "one solution, revolution" also made their way to Buckingham Palace with some kicking over security railings.
Several people threw missiles, including plastic cones and road signs at the police and several fireworks were let off by people at the base of Nelson's column.
Among the demonstrators comedian and actor Russell Brand was spotted outside the Houses of Parliament.
Steve Foster, 36, who travelled from Liverpool for the event, said: "The inquiry into institutional paedophilia is probably the main reason [why I am here].
"I want to see a real inquiry and I want to see prosecutions and people jailed in the establishment, where we all know it is rife."
Among the crowd in Westminster was a 66-year-old woman, who gave her name as Maggie, from Plymouth.
She said: "I have come along basically to say to the government, 'enough is enough'. They are bringing in so many austerity cuts, the welfare reform hasn't been thought out properly, yet Iain Duncan Smith seems to think it is working.
"I hope that people strive for humanity, to be a bit kinder to one another, and not to believe all the lies."
The BBC's New Broadcasting House was also "locked down" and riot police attended after protesters started demonstrating outside.
The protest in London was part of a world-wide event, with demonstrations taking place in countries including Cambodia, Chile, Canada, America and Mexico.