'Brazen' scrap metal dealer Joseph Collier, 72, jailed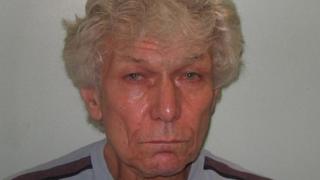 A "brazen" scrap metal dealer has been jailed for 15 months for buying hundreds of stolen memorial plaques.
Joseph Collier, 72, of Woodhall Drive, Dulwich, was found guilty of four counts of possessing or disguising criminal property and one charge of attempting to receive stolen goods.
Isleworth Crown Court heard he accepted stolen items with "no questions asked".
Prosecutors have also signalled they will be pursuing Collier under proceeds of crime laws.
The court heard he bought more than 250 memorial plaques, stolen from cemeteries around south-east London, which were worth about £18,000.
He also had a statue of Jesus which was taken from Putney Vale Cemetery and was valued at £1,700 .
Recorder Benedict Kelleher said: "Their value to those to whom they were a memorial to a loved one cannot be measured in monetary terms, and there is no doubt that their theft would have caused great distress."
The Metropolitan Police said it raided Collier's DSM Scrap Metal Yard in Bensham Lane, Croydon in May 2012 as part of a London-wide crackdown on metal theft and found hundreds of memorial plaques.
During the case police officers spent hours piecing the plaques back together.
Sgt George Shannon said: "I can only describe Collier's attitude throughout this whole process as brazen.
"There was little doubt that he knew they were stolen and he had absolutely no regard for the law. "
Collier's lawyer, James Martin, said when his client read about his crimes in the papers, it made him "feel like a grave robber".