London Underground staff get new designer uniform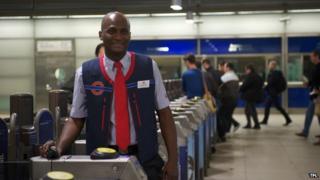 A new designer uniform has been unveiled for Tube staff working on London's Underground (LU).
It is the first time in ten years the uniform has been updated and includes pieces tailored for female staff.
Red or Dead co-founder Wayne Hemingway, designed the uniforms incorporating the LU logo on pockets, jacket cuffs and zip pulls.
The uniform will be trialled at six stations and two train depots before being distributed across the service.
Mr Hemingway said: "The London Underground community have been a vocal lot during the design and development process and rightly so when it comes to something that they have to wear for longer than anything else in their wardrobes."
Phil Hufton, London Underground's Chief Operating Officer, added it was a "modern uniform" which "reflects both our heritage and our diversity".