Southwark Council launches 'super sewer' legal challenge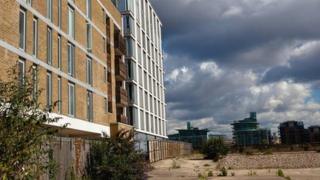 A council has applied for a judicial review into plans to use a site surrounded by schools and flats for a "super sewer" on the Thames riverside.
Southwark Council said construction at the Chambers Wharf site in Bermondsey would have a "devastating impact".
The Secretary of State approved plans for a 25km (16 mile) tunnel in south-east London, which would tackle sewage pollution in the River Thames.
The government said it was unable to comment on the legal proceedings.
On 12 September Communities Secretary Eric Pickles gave the go-ahead for the Thames Tideway Tunnel, which would span from west to east London, aimed at collecting 39 million tonnes of sewage discharged into the River Thames every year.
'Devastating impact'
The sewage will be collected from 34 discharge points along the tidal river before being taken to the Beckton sewage works for treatment.
Leader of Southwark Council Peter John said: "I can now confirm we have issued the High Court with an application for a judicial review into the Secretary of State's decision to approve plans for the super sewer in their current form because of the devastating impact the work will have on the lives of the thousands of people who live, work and go to school around the proposed Chamber's Wharf tunnel drive site."
The council argued the construction would have an impact on people living, working and going to school near the site, because the construction work would continue 24 hours a day.
The underground tunnel is due to take seven years to build, with construction set to start in 2016.
In a statement, Thames Water said: "We are aware that there has been an application for judicial review. Work is continuing with business as usual."
A government spokesman said: "We have full confidence in the robustness of the development consent order and are unable to comment on any ongoing legal proceedings.
"As one of the country's leading infrastructure projects, the Thames Tideway Tunnel will modernise the capital's ageing sewerage system."