London traffic lights switch off 'could save £40m'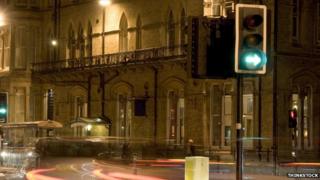 Switching off London's traffic lights at night could save drivers up to £40m, a new report has suggested.
The proposals by the Conservative group on the London Assembly claim turning off the lights for six hours overnight could cut fuel costs.
The report author Richard Tracey said the move could "boost the economy and help the environment".
However, the Labour said the plans disregarded "driver and pedestrian safety".
Reduce delays
The new report, Green Light, calls for transport bosses and local authorities to assess traffic flows and, if safe, turn off traffic lights between midnight and 06:00 GMT.
The report estimates road congestion costs the economy £4bn a year and by switching off lights overnight on 80% of 2,532 relevant junctions would cut delays across the city by 2,251 hours everyday, the report said.
The move could save motorists £40m by 2020 in time and fuel, the report said.
Assembly Conservative transport spokesman Mr Tracey said: "Turning off traffic lights at night, like they do in parts of Europe and North America, is one measure which would boost the economy and help the environment.
"A common sense approach in the right places would cut idling and therefore vehicle emissions, motorists would save cash as less fuel is wasted, and journey times would be slashed meaning deliveries are completed quicker and cabbies are able to take on more jobs."
'Death traps'
Labour London Assembly member Val Shawcross said: "Whilst this proposal may grab headlines, its disregard for driver and pedestrian safety is incredibly worrying.
"London is a 24-hour city and many routes remain busy throughout the night, the idea that just because it's not the middle of the day we should turn off traffic lights just to save a few pounds is utterly reckless."
She added the proposals "risks making after-dark death-traps of our roads."
Leon Daniels, managing director of surface transport at Transport for London, said: "Traffic signals are vital to a safe and effective road network. They have been shown to offer significant safety and economic benefits for all road users, including pedestrians, if installed and operated effectively across the network at all times.
"We are investing more than £4bn to improve London's roads. This includes upgrading our traffic lights with technology that can reduce delays for vehicles, cyclists and pedestrians, whilst maintaining their safety."