Plans to regenerate businesses in Victoria unveiled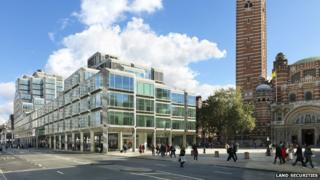 Plans to introduce more visible security and increase green spaces in London's Victoria have been unveiled.
The Victoria Business Improvement District (BID) has outlined proposals to raise £8m through a levy on local businesses to regenerate the area.
The Victoria 2020 Business Plan will also focus on brokering local employment opportunities.
The proposals also include plans to introduce more public art and cultural attractions.
Ruth Duston, chief executive of the Victoria BID, said: "From running programmes to find jobs for local people and supporting small businesses, to improving the public realm and hosting world class cultural events, the BID's focus is on creating the very best environment for businesses to thrive."
BIDs are partnerships where businesses in a geographical area decide to pay an additional financial levy on top of their business rates for services.
The Victoria BID was established in April 2010 and next year businesses will be balloted at the end of the first five-year term to find out whether the group has the support to continue for another term.
Mark Field, MP for Cities of London and Westminster said: "At a time of continuing austerity in the public sector, the private sector arguably has a bigger and more 'public' role to play than ever before in order to create the most suitable environment for economic growth.
"This is where BIDs really show their value."