Neknominate victim Isaac Richardson drank 30 units in two minutes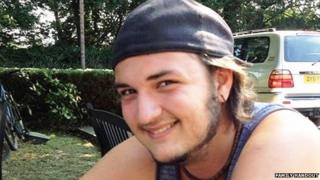 The death of a man who drank about 30 units of alcohol in two minutes after being dared as part of the Neknominate craze has been ruled as accidental.
Isaac Richardson, 20, collapsed at a hostel in Woolwich, south-east London, after drinking a concoction of wine, vodka, beer and whisky.
The game was popular earlier this year and involved nominating people to drink something and post the video online.
Mr Richardson's mother Melissa told the inquest his death was no-one's fault.
She told Southwark Coroner's Court: "He would not have wanted anyone to be singled out or blamed for something that was his decision.
"I don't blame his friend who nominated him or the friends who were with him that evening. It is a comfort to know that he was not alone."
However, she added: "If it were not for this craze and his nomination, my son would still be alive."
Mr Richardson died in hospital from acute alcohol intoxication on 9 February after drinking the 1.5 litre concoction hours earlier.
Pathology tests found he had drunk a "very high" amount of alcohol which was "within the range to induce a coma".
Det Sgt Roy Black said police determined the death was not suspicious and no crime had been committed.
He said the nomination by a friend of the deceased was made without any "pressure or force". The coroner said in his verdict there was "no question of any unlawful action".
Coroner Dr Andrew Harris also praised Mrs Richardson's "courage and objectivity" in saying she did not blame anyone for her son's death.
Neknominate became an online craze earlier this year after originating in Australia and has seen players consuming alcohol with dog food, engine oil and live goldfish.