Boy, 15, detained for nine years for shooting girlfriend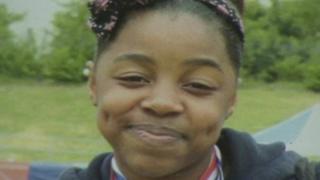 A 15-year-old boy who shot dead his girlfriend as she tried to give him a birthday present has been sentenced to nine years for her manslaughter.
Shereka Fab-Ann Marsh died after a single bullet from a counterfeit 1930s Italian Beretta pistol struck her in Hackney, east London, in March.
The boy was cleared of her murder but found guilty of manslaughter.
He was also found guilty at the Old Bailey of possession of a firearm with intent to endanger life.
'Am I going to hell?'
Judge Charles Wide said it was plain from the evidence that he had been pointing the gun at Shereka in order to "frighten" her.
And the circumstances that he had the gun and ammunition in the first place were in the context of "violent gang confrontation".
The judge told the teenager, who cannot be named for legal reasons: "Having come into possession of the gun and ammunition plainly in the context of being asked to look after it... you then got it out, and I have no doubt at all you pointed it at Shereka and pulled the trigger to frighten her, and you shot her dead."
Shereka, who attended Hackney's Urswick School, had spent the morning before she was shot buying her boyfriend presents. The gifts were discovered by police still in their wrappings at the scene.
Police found the weapon, which shot Shereka in the neck, hidden under a pillow.
On his arrest at the house, the boy told officers it was "an accident" and exclaimed: "Am I going to hell?" and: "My girl died on my birthday."
Energy and enthusiasm
In a victim impact statement Shyrine Mills, Shereka's mother, said her "life revolved around" her.
She described Shereka as "being smart, graceful, vibrant, kind, loving, gentle, warm and very much alive with all the energy and enthusiasm of a typical teenager".
She was four months short of her sixteenth birthday and was planning to have a "limo party", her mother said.
She added: "Shereka and the defendant should be in school, preparing for their GCSEs and we all should have been going about our normal daily business, while the courts deal with hardened criminals."
Ms Mills said whilst her friends and family members felt anger and contempt for her daughter's killer, she felt sympathy, adding: "He can never celebrate and enjoy a happy birthday again because from now on he will be haunted by the memory of what happened on his 15th birthday."
She added: "Shereka has been robbed of the promising business degree she greatly wanted and to which she would have been a great success at. She would have been a valuable member of society.
"But sadly those dreams will never reach fruition."