Ban for e-cigarettes on whole London transport network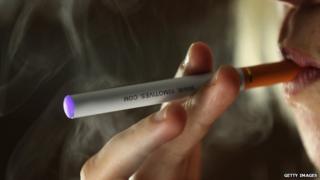 E-cigarettes have been banned by Transport for London (TfL) across the whole transport network, it has emerged.
They had previously been banned on the Tube but the ban has been extended to all TfL premises.
The ban came into effect in August, but was only confirmed by TfL on Wednesday.
It is to "remove potential for confusion and allow staff to approach any customer either smoking or using an electronic smoking device", TfL said.
Crazy notion
Smoking has been banned on London Underground since the 1980s.
The ban will "mitigate any residual potential fire risk and reduce the potential for staff assault by providing clarity and consistency", said Jill Collis, director of health, safety and environment at TfL.
Steve Booth, who owns Vapeshack, an e-cigarette cafe in Ealing, west London, was surprised at the idea that staff may be confused between people smoking and using e-cigarettes.
He said: "As far as people thinking that you are smoking tobacco, I think that is a crazy notion.
"Vaping is becoming very mainstream and the new devices that most people are using do not resemble conventional cigarettes in any way."
The extension of the ban to e-cigarettes was brought in without warning or consultation with passengers.
Deborah Arnott, chief executive of Action on Smoking and Health, a charity that works to raise awareness of the harm caused by tobacco, said: "It it is for organisations to decide about their policies on electronic cigarette use, in consultation with staff, customers and clients,"
She added: "We do encourage organisations to think carefully when drawing up policies on use of electronic cigarettes."