Oxford Street doomed to decline, report claims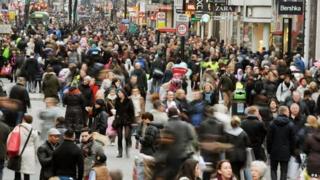 London's Oxford Street is "doomed to decline" unless it is pedestrianised by 2020, a report has suggested.
Problems with congestion, pollution and safety need to be resolved, The Case for Pedestrianisation report by the London Assembly Liberal Democrats said.
The New West End Company, which represents Oxford Street businesses, said it supported some changes but not total pedestrianisation.
The London mayor's office said it was working on improvements to the area.
The report said moving towards pedestrianisation would ensure the central London street became a far more attractive shopping centre and was better equipped to cope with Crossrail - which is due to operate from 2018.
'Easy access'
"A shopping centre with the highest known concentration of nitrogen dioxide in the world and where pedestrians are knocked down every five days, is doomed to decline in popularity and economic prosperity in the years ahead," said the report's author Stephen Knight,
"Unless real changes occur, many more people will start using other shopping centres," said Mr Knight, who is the Lib Dem's London Assembly environment spokesman.
Richard Dickinson, chief executive of New West End Company, said: "As a major global trading street, which attracts over 200 million visits to its stores each year, shoppers need to be able to have easy access by whichever transport means they choose.
"However, businesses and visitors want to see a major shift in the way the street works.
"A far greater focus needs to be given to the pedestrian by the time Crossrail opens in 2018."
A spokeswoman for London mayor Boris Johnson said: "The mayor continues to work with all parties, including the council, local businesses and other stakeholders on improvements to this vital part of London.
"The mayor understands the arguments for reducing the amount of traffic in the area which is why he has overseen a 20% reduction in buses along the busiest section of Oxford Street.
"The delivery of Tube upgrades and Crossrail in the coming years will result in the reduction of traffic on Oxford Street still further."