Henry VIII, the choir book and Alamire the spy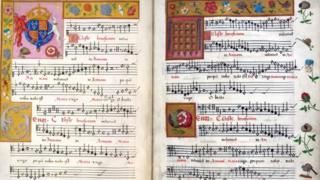 A choral work given to King Henry VIII has gone in at number two in the classical album charts, surprising the musicians who performed it. The piece was created by a duplicitous scribe and double agent who duped the King of England.
Petrus Alamire, from Bavaria, was a man of many talents - a renowned merchant of manuscripts, a scribe, mining engineer, instrumentalist, composer and diplomat carrying letters between humanists of the time such as Erasmus.
The "gorgeous", illustrated choir books he created in his scriptorium were highly sought after by the wealthy while his work as a musician also gave him access to Europe's royal courts.
He was the ideal candidate to be tapped as a spy.
"Musicians were just jobbing people so it was a good way to transfer information because musicians were never really suspected and yet they were travelling from one court to the next," said Dr David Skinner, Fellow and Osborn director of music at Sidney Sussex College, Cambridge University.
"Alamire is probably one of several similar cases."
Not only were musicians travelling between courts, they held the privilege of continuing to entertain their hosts long after other guests had retired.
"The musicians would have heard much more information than a lot of other courtiers," said Dr Nicolas Bell, curator of music collections at the British Library.
"There weren't many statesmen who would be regularly in the king's court, at his entertainments after dinner, so they enjoyed a particular sort of intimacy that even senior civil servants wouldn't have had."
Henry was in a vulnerable position when Alamire would have been approached.
The years preceding his reign had been turbulent and treacherous.
The Wars of the Roses had divided the country between the Houses of York and Lancaster, a civil war that raged between the 1450s and 80s and which was finally won by his father, King Henry VII.
While his kingdom was at peace by 1515, Henry needed to keep an eye on his exiled Yorkist enemy, Richard de la Pole, the last pretender to the English throne.
Pole had previously waged war against England with the French and his thirst to topple Henry from power had not diminished.
According to Dr Skinner it is likely Alamire would have been recruited by the King's most trusted advisor Cardinal Thomas Wolsey.
---
Richard de la Pole 1480-1525
Last member of the House of York to actively seek the crown of England
Lived in exile after many of his relatives were executed
During 1514 he planned to reclaim England, but peace between the kings of France and England foiled his plans
He planned a later invasion with King Francis I, but died in 1525 before it could take place
His mother, Elizabeth of York, was sister to King Edward IV and King Richard III of England
---
Controlling court operations, Wolsey would have identified Alamire's musical talents as a way to get him into Pole's court.
As part of their diplomatic exchanges surrounding the Pole affair, Alamire is known to have given Henry a number of musical gifts, including the "magnificent manuscript" containing the music now riding high in the classical charts.
The scribe may have hoped it would heighten his favour with the king and be returned with royal privilege, such as trade concessions and information.
"These things were utterly gorgeous," said Dr Skinner. "Alamire headed one of the most luxurious scriptoriums, so anyone who was anyone would have one.
"Music was a perfect diplomatic gift... a perfect way to exchange information without drawing much suspicion."
Alamire's manuscripts had already found homes with King Philip I of Castile and the Holy Roman Emperor Charles V.
But it is believed the manuscript destined for Henry may have been intended for another royal couple - King Louis XII of France and his wife, Anne of Brittany.
When the royal couple died within 12 months of one another, Alamire took the chance to offer the manuscript to Henry instead.
"He had this beautiful manuscript that no longer had a home, Alamire saw this as a great opportunity to change the names," said Dr Skinner.
Now referred to as the one of the British Library's "finest treasures" by Dr Bell, it includes music by some of the best known composers of the age, including Josquin des Prez, Heinrich Isaac and Pierre de la Rue as well as anonymous compositions.
The choral works make reference to mourning and childbirth, reflecting the difficulties Henry had faced producing an heir, including the stillbirth of a daughter and the death of a seven-week-old son. His wife, Catharine of Aragon, had also endured several miscarriages.
But unknown to the king, his spy had turned rogue.
Travelling to Metz in France, Alamire visited Pole and became engaged as a counter-spy giving the traitor information about Henry's court and movements around his realm.
"We know from letters which have survived to the king, but also to Richard de la Pole, that Alamire was passing information between the courts," said Dr Bell.
Whether Alamire succeeded in providing potentially devastating information between his two employers is unknown. However, his employers soon began to distrust him.
"Quite what Alamire was doing, is anyone's guess but it was quite clear that he was delivering information to Pole," said Dr Skinner.
"The diplomats got very cagey and said 'we can't trust him'. Henry seems to have just dropped him."
Alamire never returned to England after 1516 but, despite Alamire being discovered, Henry kept the manuscript. It now forms the backbone of the British Library's collections and is freely available on its Digitised Manuscripts website.
For the past 500 years most of its music has been forgotten, but Dr Skinner and his choir, also called Alamire, recently recorded it for the album The Spy's Choirbook.
"It was pretty much virgin territory, so it was really a voyage of discovery," said Dr Skinner. "It didn't sound like I was expecting.
"There are so many ideas and it's annoying that most of the compositions are anonymous.
"It's very likely that Henry would have heard it, but some of the pieces probably wouldn't have been performed, because as you transcribe there are some mistakes and they haven't been corrected."