PM welcomes £190m Ford investment in Dagenham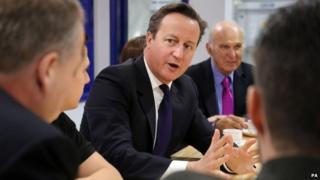 Ford has announced a £190m investment in the production of new low-carbon diesel engines at its Dagenham plant.
The company said the money, which includes £8.9m from the Government's' Regional Growth Fund, will create more than 300 jobs.
The project will see the plant turn out up to half a million two-litre engines a year for cars and vans.
The prime minster said the company's investment was a "vote of confidence" in the government's economic plan.
The announcement is part of the second phase of investment in the new engine programme, meaning the total amount of funding will reach more than £475m.
'Brighter future'
The prime minister said: "I welcome Ford's commitment to Dagenham and the UK, which is a vote of confidence in our long-term economic plan to back business, create more jobs and secure a brighter future for Britain."
The engines have been designed and developed at Ford Dagenham and at the Ford Dunton Technical Centre in Essex.
The first engines, which will be installed in Ford commercial vehicles from 2016, will come off the line at the end of next year and production capacity will rise to 350,000 units per year.
The second phase is due to start in 2017, with the first installation in Ford cars planned for 2018.
Business Secretary Vince Cable said: "From pencil line to production line, these engines will be fully designed and built in the UK, securing the future of the plant at Dagenham and creating over 300 new jobs."
Mr Cable also announced six businesses will get £5.4m of government-industry investment to help them secure and retain work with big automotive manufacturers.
Ford said the funding "underlines Ford's commitment to the UK".