Camden derailment: Poor track condition caused closure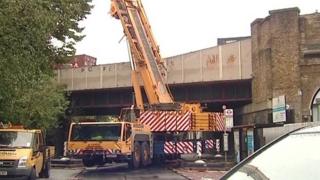 A freight train derailment last year in north London was caused by a track in a poor condition, a report has found.
The track, which carries Overground and freight trains, was closed for six days in October because extensive damage was caused to it and to overhead wires.
It was caused when one wagon derailed near the former Primrose Hill station. The train carried on until it reached a junction near Camden Road station.
The Rail Accident Investigation Branch (RAIB) said no-one was injured.
Its report recommended that Network Rail issue guidance to managers responsible for track maintenance on what should be done if measurements do not take place as planned.
They should also look at the impact of unevenly loaded container wagons.
Network Rail said: "We will study the recommendations made in the report and take any action required.
"Our maintenance regime is rigorous and as a result, we have the safest railway in Europe and incidents such as this are incredibly rare."