Blind man Andrew Bailey's reader search goes viral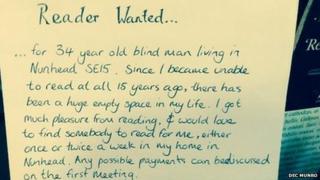 A blind man who put a note in a bookshop window seeking someone to read to him says he has been inundated with offers after the advert was tweeted.
Andrew Bailey, 34, from Nunhead, south-east London, has Friedreich's ataxia - a degenerative disease which stopped him being able to read 15 years ago.
A picture of the ad was posted on Twitter on Saturday and has been retweeted more than 1,000 times.
Mr Bailey said the response made him "feel very good really".
His carer Bradley Baxter-Hassell wrote two adverts for Mr Bailey, placing one at Goldsmiths University and one at Foyles bookshop on the South Bank, about three weeks ago.
The message read: "There has been a huge empty space left in my life. I got much pleasure from reading."
Mr Bailey, who read American Studies at Northampton University, has about 100 books he would like to read and says audio books can tend to sound "too robotic".
His favourite author is John Grisham and among the books he wants to be read are My Sister's Keeper by Jodi Picoult and The Growing Pains of Adrian Mole by Sue Townsend. He also wants to hear books by Charles Dickens.
He first showed signs of his inherited condition when he was four and began using a wheelchair at the age of 11. Five years ago he was registered blind. He needs 24-hour care and has difficulty hearing and speaking.
---
What is Friedreich's ataxia?
•Friedreich's ataxia is a rare inherited disease that causes nervous system damage and movement problems
•It affects co-ordination, balance and speech
•About 10,000 adults in the UK have a type of ataxia
Source: NHS and Ataxia UK
---
One of his carers, Anastasia Umerah, said on Sunday there had been dozens of offers of help, including at least eight or nine calls or messages from people that were received in the space of three hours.
Mr Bailey said the experience had shown "there are many, many people out there willing to read to me and it's very reassuring".
He added: "It makes me feel very good really. There are nice people out there."
Dec Munro, from Crouch End, north London, who tweeted the picture of the advert, said: "I thought two or three of my friends who follow me on Twitter might see it.
"It seemed like a nice thing to do. I didn't expect anyone to retweet it more than about twice, never mind 1,000 times."
He added: "I absolutely love reading and the idea of not being able to do it is horrible."
But one response on Twitter sounded a note of caution.
Connie, who has sight difficulties, said: "I appreciate wanting to have someone read to him but there are much safer alternatives like audio books or e-readers."
However, she conceded that voices on some audio books can sound "tinny".