Gherkin sale: London's iconic skyline 'worth £7.2bn'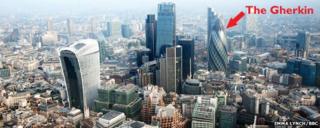 London's Gherkin skyscraper has been sold to investment giant the Safra Group in a deal reportedly worth £726m. BBC News spoke to a consultancy firm ahead of the sale to gauge how much the capital's iconic skyline might now be worth.
It is estimated that 10 of the buildings that make up the city's world-renowned skyline could be worth more than £7.2bn ($11.4bn).
Click or scroll down the images below to find out more about the value of London's iconic buildings.
EC Harris said it had arrived at its valuations by measuring their Gross Development Value (GDV) - which takes into account the income they generate, based on their floor value, quality and location.
"All commercial buildings have a GDV but public and ecclesiastical buildings such as the London Eye, the BT Tower and St Paul's are more difficult to value, other than their land value for an alternative use," said Mark Farmer, head of residential.
Estimated values were provided by EC Harris in October 2014. The total figure includes the original £650m estimate for The Gherkin and is for illustrative purposes only. The owners of Big Ben and Canary Wharf have provided their own valuations.