Met Police aims to recruit graduates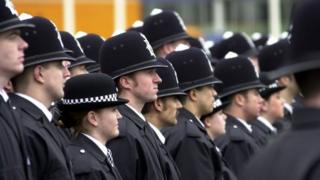 A new recruitment scheme targeting graduates has been launched by the Met Police.
Police Now aims to attract university leavers who might have otherwise gone on to careers in the private sector.
The initiative will see trainees take part in an intensive two-year course working as officers in some of London's "toughest neighbourhoods".
The Met Police said the scheme aimed to ensure "graduates come to see policing on a par with other professions".
Met Police Commissioner Sir Bernard Hogan-Howe said Police Now represented "a series of significant innovations in recruitment".
He added: "It acknowledges that today policing may not always be a job for life as it was when I joined."
As part of the scheme, participants will undertake two years training as a Dedicated Ward Officer before becoming Police Ambassadors, who will then be free to leave the force, stay on as a front-line officer or apply for a fast-track scheme to become an inspector within two years.
The scheme has been modelled on the TeachFirst programme and will focus on areas with low-incomes and social inequality.
The force will begin accepting applications from 15 October and the first set of recruits are due to start in summer 2015.
Earlier this year the Met Police announced plans to fast-track some graduate recruits to enable them to rise from constable to inspector in three years.