London hotel hammer attack victim skull 'cracked like an egg'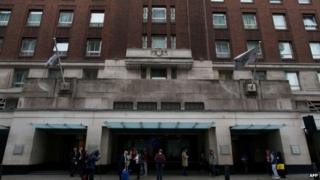 A woman attacked in a hotel with a claw hammer had her skull "cracked like an egg", a court has heard.
Ohoud Al-Najjar and her two sisters were set upon at the Cumberland Hotel in Marble Arch, London, on 6 April, with children sleeping beside them.
Paramedic Joanna Griffin told Southwark Crown Court she had never seen "such excessive violence used before".
Philip Spence, 32, has admitted three counts of grievous bodily harm. He denies attempted murder.
Mr Spence, from Harlesden, has also admitted one charge of aggravated burglary.
Part of brain
Sisters Ohoud Al-Najjar, Khulood Al-Najjar and Fatima Al-Najjar, from the United Arab Emirates, were on a family holiday when they were subjected to a "vicious and sustained" attack, the court was told.
Mr Spence bludgeoned Ohoud with such force, her skull was split open and she lost part of her brain, the prosecution said.
Ms Griffin, from the London Ambulance Service, was one of the first paramedics to arrive at the scene.
She described to the jury how Ohoud's skull had been "cracked like an egg" in the attack.
"I've been to a lot of incidents where violence has been used, fights, stabbings, shootings, but I've never seen a trauma like that before," she added.
After the attack Ohoud underwent emergency neurosurgery to reconstruct her skull and her left eyeball was removed. She can no longer speak and is not expected to make a full recovery.
'Thought she was dead'
In court, the younger half-sister of the three women also gave evidence, describing how she found the sisters in the room with "blood everywhere".
Sheika Al-Mheiri missed the attack by minutes as she went to visit her brother who was staying on another floor in the four-star hotel.
"I saw the blood... Then I saw her (Ohoud's) head. Half of her head was damaged, I thought she was dead," she said via video link from Abu Dhabi.
"There was blood everywhere, so I took the kids out," she added.
The women had been sharing the room with Khulood's two daughters, aged 11 and seven, and her nine-year-old son.
The court also heard Mr Spence fled the room with a suitcase containing valuables, including iPads, jewellery and £1,500 in cash.
Mr Spence is alleged to have planned the attack in the early hours of 6 April with Thomas Efremi, 57, from Islington, north London. Mr Efremi denies conspiracy to commit aggravated burglary.
The case continues.