London hotel hammer attack victim 'lost part of brain'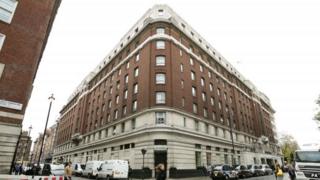 A woman who was attacked with a claw hammer at a central London hotel "lost part of her brain", a court has heard.
The victim Ohoud Al-Najjar and her two sisters were set upon at the Cumberland Hotel in Marble Arch on 6 April, while their children slept alongside them.
Ohoud's sister Fatima Al-Najjar told the court she was woken by her sister's screams before she was attacked.
Philip Spence admitted three counts of grievous bodily harm at Southwark Crown Court. He denies attempted murder.
Mr Spence, 32, from Harlesden, also denies a charge of aggravated burglary.
'Split skull'
Ohoud Al-Najjar, Khulood Al-Najjar and Fatima Al-Najjar, from the United Arab Emirates, were on a family holiday when they were subjected to a "sustained and vicious" assault, prosecutor Simon Mayo QC said.
Mr Mayo said Mr Spence bludgeoned Ohoud with such force, her skull was split open.
The court heard her nine-year-old nephew hid under the sheets next to her during the attack.
"The women suffered terrible injuries; one even lost part of her brain," the prosecutor said.
"Her skull was smashed so badly that brain tissue protruded from a hole in her head."
The court heard after the attack, Ohoud underwent emergency neurosurgery to reconstruct her skull and her left eyeball had to be removed. She can no longer speak and is not expected to make a full recovery.
Repeatedly struck
The sisters were sharing adjoining rooms at the four-star hotel.
The court heard the rooms had been left unlocked to allow a fourth sister to return later in the night, but Mr Spence was seen by Khulood rifling through handbags at about 01:30 BST.
He attacked Khulood in the bed she was sharing with her 11-year-old daughter and her sister Fatima. Khulood's seven-year-old daughter was also asleep on the floor, the jury heard.
"It is almost impossible to imagine the terror that must have seized these poor women as they were confronted in the darkness of their room by Philip Spence wielding that claw hammer," Mr Mayo said.
"Worse still when he began to rain blows down on their heads."
Speaking through an interpreter, Fatima, 31, who suffered damage to her skull, ear and facial nerves, told the court she tried to stop the attack on Khulood but was struck repeatedly. The jury heard both sisters were left unconscious.
"He was hitting her really hard. He brought his hand above his head and down," she said.
"He just started attacking me. He attacked this side (left side) but I was always moving, he was hitting me everywhere, I didn't know what was happening."
Khulood, who also gave evidence, told the court she believed she had been hit more than 30 times.
Prosecutor Mr Mayo said an expert forensic pathologist found the three women had suffered life-threatening injuries and it was due to the skill of surgeons treating them that they survived.
Mr Spence fled the room with a suitcase filled with valuables and the women were not discovered until the fourth sister Sheika Al-Mheiri returned, the court was told.
The hammer was later found on a window sill on a stairwell in the hotel.
Mr Spence is alleged to have planned the attack in the early hours of 6 April with Thomas Efremi, 57, from Islington, north London. Mr Efremi denies conspiracy to commit aggravated burglary.
The case continues.