Burst water main floods Twickenham street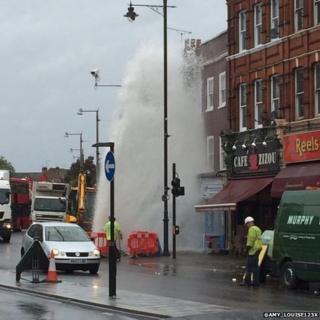 A burst water main, which was damaged accidentally by workers, has closed part of a road in south-west London.
Thames Water said they were called to reports of a burst pipe in King Street, Twickenham, at about 11:00 BST.
The water company apologised and admitted a worker damaged the pipe "by accident".
Stuart Sandys, from Sandys Fishmongers, in King Street, said the water had gone "over the roof" of a two-storey building.
A spokesman for Thames Water said: "We're really sorry to people and businesses affected by the burst pipe.
"Our workers damaged it by accident while carrying out another job and we'll be doing everything we can, as fast as we can, to put things right."
He added an engineer had been sent to the road to switch off the water.
Four fire engines are tackling the flooding and London Fire Brigade said sandbags were being used to prevent water from entering shops.
'Like a geyser'
Mr Sandys said up to 2ft (0.61 m) of water was outside the shop and water was coming through the ceiling.
"It went up like a geyser and hit the front of the shop. We have a two-storey building and it went over the roof," he said.
"They still haven't stopped the water, they have parked a digger over but water is still coming out of it."
King Street has been closed eastbound.