Man denies Cumberland Hotel hammer murder attempts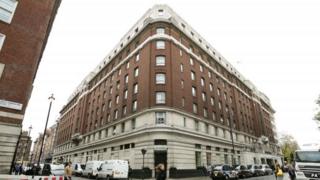 A man has pleaded guilty to attacking three sisters in a London hotel, but has denied attempting to murder them.
Philip Spence, 32, pleaded guilty to three counts of grievous bodily harm at Southwark Crown Court, but faces a trial for attempted murder.
The three women were attacked with a claw hammer at the four-star Cumberland Hotel in Marble Arch on 6 April.
Mr Spence, from near Harlesden, north-west London, is due to go on trial on Tuesday charged with attempted murder.
'Life threatening' injuries
Ohoud Al-Najar and her sisters, Kohloud and Fatima, were staying at the hotel near Marble Arch when the attack happened.
The sisters arrived in the UK from the United Arab Emirates between 3 and 5 April and were in London on a shopping and sightseeing trip.
At the time of the attack, officers said one victim suffered life-threatening head and facial injuries, lost her left eye and a large quantity of blood.
Doctors assessed she had 5% brain function, although her other organs were in a good working condition, police said.
Another sister suffered two fractures to her skull, a broken left arm and a fracture to her cheekbone, while the third sister had a skull fracture and a ruptured left eardrum.
Mr Spence entered the pleas on 1 October but reporting restrictions were lifted earlier.
Mr Spence and a second man, Thomas Efremi, 57, will also each face one count of conspiracy to commit aggravated burglary.
Efremi, from Islington, north London, previously pleaded guilty to fraud at an earlier hearing after withdrawing thousands of pounds from stolen credit cards.