Post-mortem tests due on body of 'Alice Gross suspect'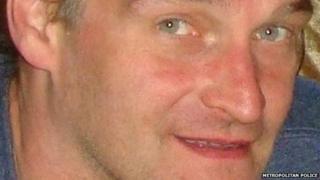 A post-mortem examination is taking place on the body thought to be that of Arnis Zalkalns, the prime suspect in the murder of Alice Gross.
The corpse was discovered in an area of dense woodland in Boston Manor Park, west London, on Saturday afternoon.
Sources told the BBC the badly-decomposed body, which is yet to be formally identified, was found hanged.
Alice, 14, from Hanwell, west London, disappeared on 28 August. Her body was found in the River Brent on Tuesday.
The body was discovered about a 20 minute walk away from where Alice's body was found.
The post-mortem examination is taking place at Fulham mortuary.
BBC News correspondent Tom Symonds said a shopkeeper had seen Mr Zalkalns in mid-September. The builder was last seen at his Ealing home on 3 September.
The shopkeeper said the suspect had sent a boy, aged about 14-years-old, into the shop to buy alcohol. When he refused to sell it to him, Mr Zalkalns went in the shop himself.
"[The shopkeeper said] he seemed dishevelled and dirty; he looked like he hadn't slept properly - perhaps a suggestion he was sleeping rough in that area during the massive search that took place in the wake of Alice's disappearance," Tom Symonds added.
The body was removed from Boston Manor Park on Sunday after Mr Zalkalns' partner was informed of the discovery by Scotland Yard.
A Metropolitan Police spokesman said on Saturday: "Although no formal identification has been made, early indications suggest the body may be that of Arnis Zalkalns."
The Latvian builder was last seen at his home in Ealing six days after Alice vanished while walking along the Grand Union Canal in west London.
He was filmed on CCTV cycling along the same route just minutes behind the schoolgirl on the day she disappeared.
Mr Zalkalns served seven years in prison in his native country for bludgeoning and stabbing his wife Rudite to death before moving to the UK in 2007.
When police found Alice's body on Tuesday they said significant efforts had been made to conceal it.
Her post-mortem examination at Uxbridge mortuary took two days due to the "complex nature" of the investigation, Scotland Yard said.
Further tests are to be carried out on the teenager's body after the examination proved inconclusive.