Worker dies in Heathrow Airport Terminal 2 accident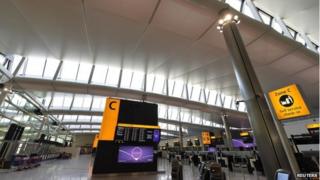 A construction worker has died in an accident at Heathrow Airport's recently reopened Terminal 2.
The man in his 30s was fatally injured when he was struck by a truck at about 04:45 BST, police said.
London Air Ambulance attended but the man died at the scene at about 05:45 BST. No arrests have been made.
The incident happened in an area of the terminal where construction activity was still taking place, an airport spokesman said.
The driver stopped at the scene, Scotland Yard said.
"Our deepest sympathy and thoughts are with their family, friends and colleagues," the Heathrow spokesman said.
The man has yet to be formally identified but his next of kin have been been informed.
The Health and Safety Executive said it was aware of the incident and was assisting police with inquiries at the site.
A new Heathrow Terminal 2 - known as the Queen's Terminal - opened in June.