Mothers campaign group to leave Newham flats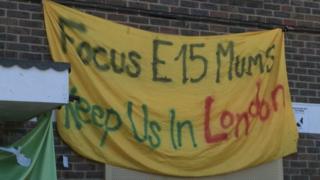 Members of a women's group occupying flats in a council estate near east London's Olympic Park have been told by a court to leave the premises.
Newham Council said the tower blocks were too expensive to renovate and the site should be redeveloped.
The Focus E15 Mothers' campaign has agreed to move out of the Carpenters Estate by 7 October.
Comedian Russell Brand spoke in support of the women saying the council's policy was "breaking down families".
"Everyone on that estate knows each other," Brand said. "People have relationships."
"If we don't get involved together and collectivise now it's going to affect more and more of us."
'Direct action'
Bow County Court agreed to the council's request for a possession order.
The campaign group says Londoners are being forced out of the capital because of a lack of affordable accommodation.
A Focus E15 spokeswoman said: "The plan was never to stay indefinitely.
"We will continue to fight displacement and evictions and to campaign for secure, council housing through direct action, mobilisation and legal means."
Mayor of Newham Sir Robin Wales said: "We will now ensure these houses are turned into homes for families who need them."
A Newham Council spokesperson said: "We are pleased that we have been able to reach a peaceful, legally binding agreement which allows us to take back the property by 7 October, particularly given the increasingly aggressive nature of the protest, as seen on Monday night.
"Two mothers who are occupying the flats are not homeless. Newham Council worked hard to find them suitable homes in the borough.
"No rehoused residents are worse off and a generous compensation and removal package has been offered."
A spokesman for the campaign group denied the accusation of aggression, adding: "People feel unable to challenge the mayor."
"We have and always will be a peaceful group," he added.