London is still at the bottom of NHS cancer league table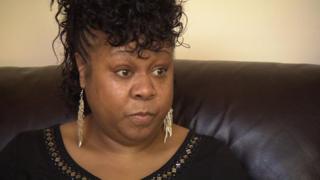 Too many cancer patients in London are not getting the care they deserve, according to a survey by Macmillan Cancer Care.
Eight of London's NHS trusts score in the bottom 10 of a patient-experience league table.
Lack of staff compassion among hospital staff was among the criticisms levelled by patients.
But the charity said care was improving and the NHS had launched a plan to improve cancer services in the capital.
'They didn't care'
One cancer patient, Diane Ennis, 42, who was diagnosed with ovarian cancer in 2012 and treated by a London trust, said: "I knew there was something wrong with me but [I didn't know it was] that.
"I was going into the hospital and there were consultants telling me to 'go home and put your feet up', thinking it was this, that or the other. They just didn't have a clue.
"It seemed like they didn't care. I can't stress how traumatic it was." Ms Ennis's cancer is now in remission.
The league table follows NHS England's National Cancer Patient Experience survey of over 70,000 cancer patients.
Areas highlighted for improvement include ensuring that patients are offered an assessment and care plan; that hospital staff give patients enough emotional support; and that patients feel staff are doing everything to control the side effects of chemotherapy and radiotherapy.
Signs of improvement
Trusts are ranked according to the number of times they appear in the lowest 20% on the 61 questions, the charity said.
The three best-performing trusts in England were South Tyneside, Gateshead and Harrogate.
Carol Fenton, from Macmillan, said: "After four years of London trusts featuring in the bottom 10 of our league table, signs of improvement are visible, but there remain significant areas where improvement is needed."
Dr Andy Mitchell, Medical Director of NHS England, said several things were being done to guarantee improvements in patient experiences.
He said: "They include our strategy for long-term commissioning but also our patient user group, which will advise us on what it is that patients actually need to make sure their care is personalised and of high quality to them as individuals."
---
10 worst performing trusts
1 Barts Health NHS Trust, London
2 Milton Keynes Hospital NHS Foundation Trust, Buckinghamshire
3 Imperial College Healthcare NHS Trust, London
4 Homerton University Hospital NHS Foundation Trust, London
5 Ashford and St Peter's Hospitals NHS Foundation Trust, South East
6 Barking, Havering and Redbridge University Hospitals NHS Trust, London
7 Royal National Orthopaedic Hospital NHS Trust, London
8 Royal Free London NHS Foundation Trust, London
9 North Middlesex University Hospital NHS Trust, London
10 Kings College Hospital NHS Foundation Trust, London
---