Putney Bridge opens after £1.5m repairs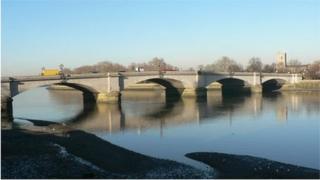 A Grade II Listed bridge in south-west London has reopened after undergoing £1.5m worth of repairs.
Putney Bridge, which stretches over the Thames, had its Victorian features refurbished and underwent repairs to protect it against water penetration.
A new road surface has been laid and drainage systems were upgraded.
The bridge's Victorian iron lamp columns have also been installed with modern LED lights to make them shine brighter.
The bridge opened to traffic at 05:00 BST.
Councillor Jonathan Cook said: "I would once again like to thank the travelling public for the great patience they have shown while we have been carrying out these important repairs.
"I am absolutely delighted we have been able to complete this big task more than two weeks ahead of schedule and also very importantly right on budget."
When the bridge was first closed to traffic, there were complaints that pedestrians crossing it were "herded like sheep", but the council later widened the footpath.
Repairs to the subway on the Fulham side of the bridge have been put on hold until approval is given for specialist wall facings to be installed, but it has re-opened in the interim.