Sean Rigg custody death probe PC Andrew Birks cannot quit Met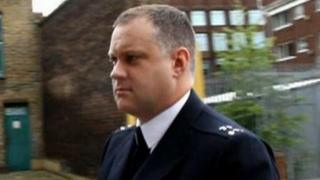 A Met officer under investigation over a death in custody must stay throughout a misconduct investigation, the High Court has ruled.
PC Andrew Birks applied to leave the force to become a vicar, but was suspended pending an inquiry into the death of Sean Rigg.
The court ruled it is in the public interest that Mr Birks stay in the Metropolitan Police (Met).
PC Birks was the senior officer involved in the arrest of Mr Rigg.
Mr Rigg, 40, was arrested in Balham, south London, and taken to Brixton police station in August 2008 after attacking a man. He died at the station after a suffering a cardiac arrest.
PC Birks had started a judicial review into the Met's decision to refuse to lift the suspension, claiming it infringed his human rights.
High Court judge Mrs Justice Lang said in her ruling: "Given the gravity of the allegations against the claimant, namely, that his actions caused or contributed to a death in custody, the public interest requires that he should remain in the force to answer any charges of misconduct which may be brought against him and the other officers involved."
PC Birks was due to be ordained on 28 September, but the Met refused to allow him to leave and suspended him, pending the inquiry.
'Upset and anguish'
The judge refused an application by Mr Birks for permission to appeal.
The damage to PC Birks' interests was outweighed by the public interest in maintaining his suspension until the investigation into Mr Rigg's death was completed, the court was told.
Sean Rigg's sister, Marcia Rigg-Samuel, welcomed the judge's decision.
She said: "I and my family hope that this will now set a precedent for other families who face the same dilemma as my family have following a death in custody, and avoid upset and anguish when an officer leaves the police service before an investigation into his or her conduct is complete."
The Met released a statement and said the decision to suspend PC Birks and rescind his resignation was taken after careful consideration, and was based on a unique set of circumstances.
"These included ongoing public interest in the case, the need to maintain public confidence in the accountability of police officers and to allow the Independent Police Complaints Commission's (IPCC) to complete their current investigation. We also recognise the personal impact that this decision has had on PC Birks."
PC Birks had completed a three-year degree in theology in June and was due to take up the office of curate in Portslade in Sussex.
In May the police watchdog ,the IPCC, urged the Met to prevent PC Birks from resigning so he could face misconduct proceedings.