Hackney shooting: Gun trigger 'pulled accidentally' on girl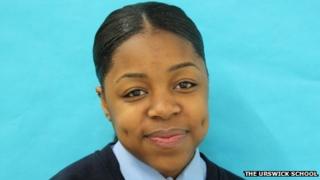 A teenage boy demonstrated in court how he was "waving" a gun in front of his girlfriend when it "accidentally" went off in a house in Hackney, east London.
Shereka Fab-Ann Marsh, 15, died after a single bullet from a counterfeit 1930s Italian Beretta pistol struck her.
There were gasps and tears from her family at the Old Bailey as the youth recreated the moment he killed her.
The boy, also 15, who cannot be named, denies murder and an alternative charge of manslaughter.
He has also pleaded not guilty to possession of a firearm with intent to endanger life.
In March, Shereka had gone to give the boy a birthday present, the court heard.
After the shooting the boy called 999 but Shereka had suffered serious internal bleeding and could not be saved, jurors have heard.
'I loved her'
In court, the boy recreated the moment the incident happened with hands together and pointing his fingers towards jurors from the witness box.
Under cross examination, he showed how he was holding the gun with both hands and "waving it" around when he "accidentally pulled the trigger".
He denied that he was posing with the weapon and that was why he had to have his fingers on the trigger.
Expert evidence had indicated that it would take a "concerted effort" to fire the weapon, prosecutor Jonathan Rees QC said.
The lawyer asserted: "You intended to shoot her didn't you? She was scared enough to raise her hand and put it between the muzzle of the gun and her neck."
The boy replied: "No sir, she was not."
Earlier in his defence, the youth said he never quarrelled with the schoolgirl he called his BM - or baby mother - and had no reason to harm her.
Asked by defence lawyer Timothy Raggatt QC how he felt about the victim, he said: "She was my girlfriend. I loved her."
The trial continues.