Rush hour Tube carriage 'filled with smoke'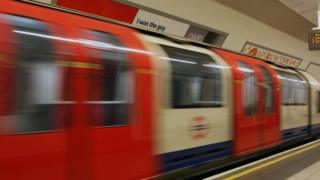 A commuter has described coughing and feeling scared after a Tube carriage began filling with smoke during Tuesday morning's rush hour.
A Piccadilly line carriage took on smoke near Manor House, north London, after a motor became defective.
Katie Tucker, who was travelling to work, said: "You could see smoke. It was starting to build up."
London Underground (LU) apologised to its customers but said they had not been in any danger.
Ms Tucker said: "My eyes started to sting a little bit. Everyone started to look at each other and think, 'OK, there's smoke in the carriage.'
"We started talking and saying 'shall we pull the passenger alarm now'.
"A couple of people were coughing. No-one really knew what to do."
She added: "We pulled the alarm in our carriage. The train stopped in the tunnel. It was quite scary."
"We heard an announcement saying 'Everyone out: emergency evacuation of the Tube station'."
London Fire Brigade were called to the scene as a precaution.
LU operations director Nigel Holness said: "Manor House station was closed today at 08:30am this morning due to reports of smoke on the westbound platform.
"LU staff worked quickly to identify the cause and found that the smoke came from a defective motor on the train which was then taken out of service.
"Customers and staff were not at any risk but we would like to apologise to customers for the disruption caused to their journeys this morning."