Mothers stage homes sit-in protest near Olympic Park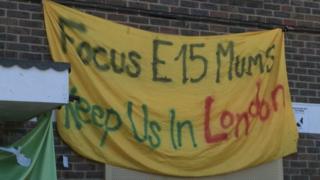 Members of a women's group in east London are staging a week-long occupation of an almost empty housing estate next to the Olympic Park.
The Focus E15 Mothers' campaign say Londoners are being forced out because of a lack of affordable accommodation.
They claim thousands of social housing units remain empty in London.
But Newham Council says the tower blocks in the estate are too expensive to renovate and the site has been earmarked for redevelopment.
The week-long protest on the Carpenters Estate began on Sunday.
'Agitators and hangers-on'
One of the woman, Jasmine Stone said: "There's absolutely nothing wrong with this property.
"We came in here, put a bit of furniture in and we haven't done anything other than that.
"These properties are fine for somebody to move into today."
But Newham Council's Andrew Baikie, the mayoral adviser for housing, said the empty homes were being occupied by "agitators and hangers-on".
He added that the estate was not viable, and that more than 400 residents had moved from the estate in the last 10 years. Currently 62 of the homes are occupied.
Mr Baikie said that before the estate was regenerated, the council wanted to use as many of the vacant homes as possible to temporarily house homeless people, but it now had to spend "more money to get protesters off the estate".
"It is clear that on the Carpenters Estate, the needs of the wider people of Newham are being ignored for the sake of petty, expensive stunts."