Alice Gross: Arnis Zalkalns' murder conviction details requested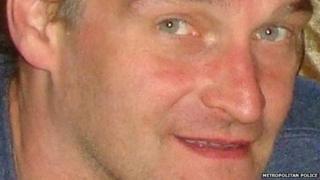 Officers searching for missing schoolgirl Alice Gross have formally asked Latvian police for details of the murder conviction of the prime suspect.
Met Police detectives have sent a letter to get the full file on the case of Arnis Zalkalns, 41.
He was jailed in 1998 for seven years for stabbing his wife Rudite Zalkalns to death in Latvia.
Alice, 14, from Hanwell, west London, was last seen on 28 August next to the Grand Union Canal in west London.
The inquiry has focused on Mr Zalkalns after he too went missing on 3 September. His passport was left at his house in Ealing, west London.
The Met believes he is just as likely to be in the UK as abroad.
Police in Latvia confirmed he had not entered the country by plane, but said it was possible he could have got in undetected if he travelled by car or coach.
The hunt for Alice is the largest Metropolitan Police search operation since the 7/7 terrorist bombings in 2005.
The Met said 600 officers from eight forces had searched 25 sq km (10 sq miles) of open land and 5.5km (thee miles) of canals and rivers.
Officers in blue forensics suits are bagging rubbish next to the River Brent in Hanwell, while four more policemen search the river bed.
BBC reporter Lucy Manning tweeted on Monday that a knife had been found by police searching the river, but it is not clear whether it was connected to the investigation.
Mr Zalkalns was seen riding a mountain bike along the canal path 15 minutes after Alice walked the same way.
Police said on Thursday it was their understanding there was no record in the UK of his murder conviction.
Detectives have said he was also arrested on suspicion of indecently assaulting a 14-year-old girl in 2009, but no further action was taken.
The general labourer, who works at a building site in Isleworth, west London, is thought to have come to the UK in 2007.
'Productive relationship'
BBC reporter Damien McGuiness, who is in Latvia, said much of the police work in the country is undercover so details cannot yet be publicised in case the investigation is jeopardised.
The Sunday Times had reported officers searching for him waited for four days before approaching officials in Latvia.
But a Latvian police liaison officer said the Met contacted them about a week ago.
A Met Police spokesman said: "We are maintaining a close and productive relationship with the Latvian authorities in relation to this investigation.
"We are not going to elaborate on the nature of information-sharing with Latvian authorities."
A reward of up to £20,000 is being offered for anyone who has information that leads detectives to find Alice.