Alice Gross disappearance: Search 'largest since 7/7'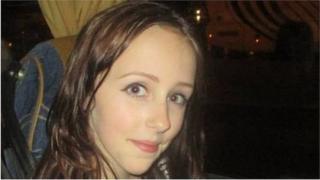 The hunt for missing 14-year-old Alice Gross is the largest Metropolitan Police search operation since the 7/7 bombings in 2005, the force has said.
The Met said 600 officers, from eight forces, have searched 25 sq km (10 sq miles) of open land and 5.5km (3 miles) of canals and rivers.
Alice was last seen on 28 August by the Grand Union Canal in west London.
Latvian builder Arnis Zalkalns, a convicted murderer, has been named by the police as the prime suspect.
He has been missing since 3 September.
Mr Zalkalns, who was jailed for seven years in Latvia for killing his wife in 1998, was seen riding a mountain bike along the canal path 15 minutes after Alice walked the same way.
CCTV call
The bike was found by officers on Friday, but officers would not say where.
More than 630 calls have been made by the public and police have asked anyone with CCTV footage to come forward.
Officers said they would like shop owners, or anyone who has CCTV at their home or was out filming in the areas of Ealing and Hanwell, to hand in the footage.
Det Supt Carl Mehta said: "Our thoughts continue to go out to Alice's family as our search continues in a bid to find her.
"I would like to thank the local community, who have shown great support to the search effort and police investigation so far.
"Our officers are working through the weekend - carrying on those searches. We will not stop our hunt for Alice."
Open spaces, waterways and disused buildings around the route Alice was known to have taken on the day she was last seen have all been searched by officers.
Two properties linked to Mr Zalkalns have been searched by police.
Forensic searches were carried out on Thursday at his home in Ealing, west London, where he had been living with his partner and their child.
On Friday police started searching a second property in Boston Road, Hanwell.
Police said Mr Zalkalns has not accessed his bank account or used his mobile phone since he went missing. His passport was left at his house.