London's Trocadero: Picturehouse plans seven-screen arthouse cinema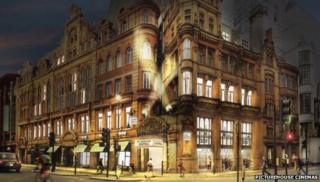 The Trocadero centre in London's West End is set to get a new seven-screen, 1,000-seat arthouse cinema.
Picturehouse Central will replace the Cineworld complex on Shaftesbury Avenue near Piccadilly Circus.
It will show mainstream films alongside independent and foreign language films, documentaries and theatre broadcasts.
Due to open in spring 2015, it will have a New York deli-style café on the ground floor and a first floor café-bar overlooking Shaftesbury Avenue.
The Picturehouse chain was formed in 1989 and owns and operates 19 cinemas across the UK.