Sean Rigg custody death officer wants to be a priest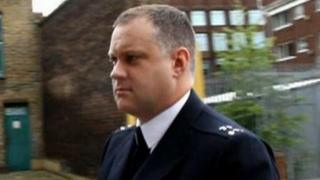 A police officer who is under investigation over a death in custody wants to leave his force to become a priest, a court has heard.
PC Andrew Birks was the senior officer involved in the arrest of Sean Rigg, who died at Brixton police station in south London in 2008.
He is due to be ordained on 28 September.
The Metropolitan Police (Met) has refused to allow him to leave and has suspended him, pending an inquiry.
Mr Birks is challenging the Met's decision to refuse to lift the suspension claiming it infringes his human rights.
Hugh Davies QC, representing the officer, told the High Court it was a "unique" case because PC Birks had resigned in April "on the express basis that he wanted to change careers to become a Minister in the Church of England".
The court heard the officer began the process of selection as a priest in 2009, before any "adverse" findings relating to his role in Mr Rigg's death.
He completed a three-year degree in Theology, as he was required to do, in June and is due to take up the office of Curate in Portslade, in Sussex.
The hearing continues.