London's New Year's Eve fireworks to be ticketed for first time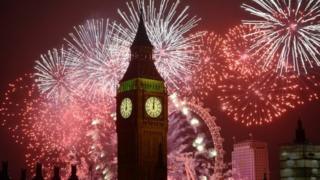 London's New Year's Eve fireworks display is to be limited to a viewing area of 100,000 ticketed spectators for the first time.
The event's popularity made it "untenable" to strain the transport and safety infrastructure with a larger number, the Mayor's office said.
The display was first staged at the London Eye in 2003 and attendance grew from 100,000 then, to an estimated 500,000 at last year's event.
The tickets will cost £10 each.
London Mayor Boris Johnson said: "London's New Year's Eve fireworks are phenomenally popular, not just in the capital, but across the world and we want to ensure it continues to be a safe, enjoyable and sustainable event for the long-term."
A spokesman said last year's display had put "enormous strain on transport and safety infrastructure", and after consulting emergency services and Transport for London the event in its current form was found to be "untenable".
Its increasing popularity meant capacity was often being reached by early evening, leaving hundreds of thousands of people unable to get a good view, with even the early arrivals facing a wait of several hours and cramped conditions.
Visitors have also faced long delays after the close of the event to find their way home on public transport.
But Caroline Pidgeon, Leader of the Liberal Democrat London Assembly Group, criticised the plans, saying the fireworks "should be accessible to all" and warned of "the potential for serious crowd management issues outside the 'pay' zone".
"It would be a scandal if any families were denied access to the event due to the introduction of ticket prices," she added.
Barriers have been used to form viewing areas for the fireworks in previous years, but for the first time people will be denied entry to those areas unless they have a ticket.
The viewing areas are located on Westminster Bridge, on the north embankment of the Thames between Westminster and Waterloo bridges and on the Southbank behind the London Eye.
People wishing to attend this year's event will be able to book up to four tickets from 26 September at 12 noon.