Hackney shooting: Girl 'shot on boyfriend's birthday'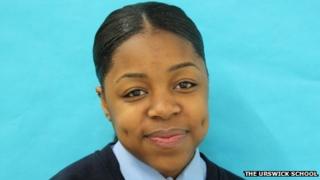 A 15-year-old girl was shot in the neck when she was shown a gun by her boyfriend on his birthday, the Old Bailey has heard.
Shereka Fab-Ann Marsh died after a single bullet from a counterfeit 1930s Italian Beretta pistol struck her.
The boy, also 15, who cannot be named, told police the pair were holding the gun at his east London home when it went off.
He denies murder and an alternative charge of manslaughter.
He has also pleaded not guilty to possession of a firearm with intent to endanger life.
The boy, who called the emergency services, initially told officers he found the gun on Hackney Marshes, but in a written statement said he had agreed to look after it for someone else, but refused to give a name saying "I am not a snitch".
'You've shot me'
The jury heard he told officers: "She's been shot. We were both holding it and it went off. I found the gun yesterday. We were looking at it. It went off and hit her in the neck.
"I didn't know it was going to go off... she said 'you've just shot me'. I didn't even pull the trigger."
After his arrest he asked police: "Can I say sorry to her mum? It was an accident... my girl died on my birthday."
Prosecutor Jonathan Rees QC told the jury: "He said that she was looking at the gun and spun it around herself so that it was pointing towards her as opposed towards his arm.
"He did not assert that Miss Marsh had pulled the trigger but insisted that he did not touch the trigger at all. He said he heard a pop or a loud bang."
'Posing with handguns'
The bullet went through her wrist and neck before lodging in her left shoulder.
A firearms expert found the gun was probably about 1ft 6in (46cm) from her hand and tests on it showed it would not tend to go off without the trigger being pulled.
Mr Rees asked the jury to consider how the gun came to be pointed at Shereka with one possibility being "he was posing with the gun in front of her", which "would not be the first time".
Two images of him posing with handguns was found on his phone. In one, he is pointing the guns at the person taking the picture. This picture was also found on Shereka's phone, the court heard.
The trial continues.