QPR stadium: Car supermarket 'refuses' talks over plans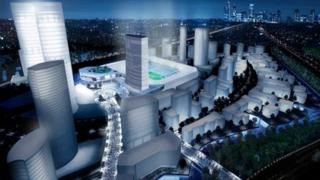 A car supermarket has said it "will not enter into any future talks" with Queens Park Rangers over its plans for a new stadium in north-west London.
The football club wants to build a 40,000-seat stadium at Old Oak Common as part of a regeneration of the area, creating 24,000 new homes.
Cargiant owns a 30-acre plot of the site and insisted it has its own plans for regeneration of the area.
A QPR spokesman said: "For the good of the area we need to work together".
The Premier League club has previously said the regeneration of the area, provisionally called New Queens Park, would create 55,000 jobs and would provide a replacement for the club's current Loftus Road ground in Shepherd's Bush.
Cargiant managing director Tony Mendes is a QPR season-ticket holder.
In a statement, the company said: "We are very surprised by QPR's PR campaign regarding a proposed new stadium in Old Oak Common and in particular on land owned by Cargiant.
"The company are not in negotiations with QPR and will not enter into any future talks with the club.
'Complex development'
"The company will announce in due course details of its own scheme for the regeneration of its land holdings that will incorporate the residential units, jobs and community facilities that the GLA detailed in their vision for the regeneration for the area."
Cargiant has also rejected the suggestion that the club may obtain a Compulsory Purchase Order.
"In regards to the threat of CPO, there is no legal basis on which to serve a CPO on Cargiant. We are a willing developer," the company said.
"This is also not a 'tool' to increase the land value to QPR or anyone else. If the company wanted to pursue this route, it would be talking to other developers, which we are not."
Mark Donnelly, QPR's chief operating officer, said of the Cargiant's refusal to negotiate: "I think it is a complex development.
"We would welcome the opportunity to sit down with all the landowners. If it was left to individual people doing their own developments it won't lead to the benefits that the area needs."
The New Queens Park project has the backing of Greater London Authority, Network Rail and Genesis Housing Group and it is believed the west London club hopes to be in its new home by 2018.
A public consultation on the plans will open until 17 October.