'Crossrail for bikes' in London at political crossroad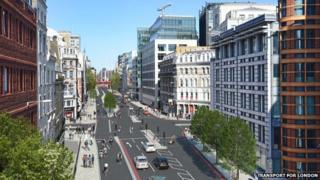 The mayor's grand plan and a consultation for a "Crossrail for bikes" is at a political crossroad.
The plan for a long segregated bike lane across London has been welcomed by most cyclists but the mood is changing.
Already, business groups like London First and the RAC Foundation have voiced their concerns about a reallocation in the road capacity.
They all fear gridlock as existing lanes are switched to cycling for the "Crossrail for bikes".
Others have whispered about the plans not being thorough enough and of concern within Transport for London (TfL) about the plans.
Is this the start of the cycling backlash?
Cycling campaigners are again mobilising to solidify the gains they have made on these policies. They're calling it a "PR War".
It is, though, worth rewinding and restating how we got to this point. These plans are not a whim.
These promises were made after countless cyclists died in London - mainly killed by HGVs.
There were many demonstrations over the deaths of the cyclists and calls for more action. The promises were hard won by campaigners who got all the political mayoral candidates in the 2012 election to sign up to Dutch-style segregated lanes.
That, in conjunction with the huge increases in cycling, means any of those mayors in 2012 had to be seen to be taking action.
'De-lycrafy' cycling
Two years later London is beginning to see the start of those changes.
Segregated lanes aren't just about encouraging cycling and making it safer and reducing deaths - they are about encouraging cycling for all.
There is a feeling within City Hall that cycling should be "de-lycrafied" and cyclists of all levels should be able to do it safely in London if they want.
Having put so much emphasis on cycling it would seem very difficult for the mayor to water down or change these proposals.
At the moment it seems like Boris Johnson isn't being swayed by the concerns of big business but there is certainly pressure to change tack.
Even the smallest change in the plans will be seen as a snub by cycling campaigners.
The cycling infrastructure from the mayor's first term - in particular cycle superhighways - was largely ineffective and most is being rethought and rebuilt. It was criticised for a lack of ambition and for just being "blue paint".
"Crossrail for bikes" is certainly ambitious. This consultation and its outcome is the first real test of large segregated cycling infrastructure in this country.
How it ends up in London after the consultation will have an influence on what cycling facilities look like elsewhere in the UK.