Fears over Londoners trapped in India and Pakistan flood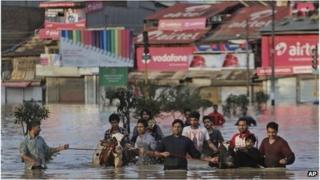 Dozens of London families are feared to be trapped in India and Pakistan following days of heavy flooding.
Parts of the region have seen the worst floods in half a century, killing hundreds of people and leaving tens of thousands homeless.
At least 30 Londoners are thought to be stranded in Srinagar, the capital of Indian-administered Kashmir.
The Foreign Office said: "We stand ready to provide consular assistance to British Nationals affected."
Many homes and even hospitals in Srinagar are submerged and communication and road links are largely cut off.
Lara Naqushbandi, from Canary Wharf, in east London, said her British parents have been trapped in Srinagar for days.
"The phone lines are down and I have been trying to contact my parents for three days; I finally managed to get through to them.
'Hours in the attic'
"When I spoke to my dad, he said they have been through a really tough time.
"When the water came into the one-storey house they were staying in, they rushed into a tiny attic and spent 36 hours there.
"The water was waist high and they kept thinking the whole house would collapse; they were scared they were going to die," she added.
"My elderly parents eventually had to swing across a rope to get to another neighbouring building.
"It's been extremely distressing for them."
Ms Naqushbandi's parents are stranded in the capital. They are unable to reach the airport to return home because the roads are waterlogged.
The British relatives of those trapped in the region said they were disappointed by the response of the British government.
'Horrific experience'
Lara's sister, Shama said: "None of the authorities had communicated about floods and no warning was given.
"We have had little information from the British High Commission in India and the Foreign Office about what is happening on the ground."
Shafaq Shirazi, from Redbridge in east London, said her sister has been stranded in Indian-administered Kashmir with her two small children for days.
"It's been a horrific experience for them, when I spoke to my sister, she was crying her eyes out.
"She said her children are traumatised, they saw the water rising, buildings collapse around them.
"They didn't know if they would make it."
A major rescue operation is under way with both the Indian and Pakistan military involved.
In a statement, a Foreign and Commonwealth Office spokesperson said: "We are aware of the floods in Pakistan and India. We stand ready to provide consular assistance to British Nationals affected."
You can hear more on BBC Asian Network at 13:00 and 17:00 BST or listen back on BBC iPlayer.