London's 2030 skyline predicted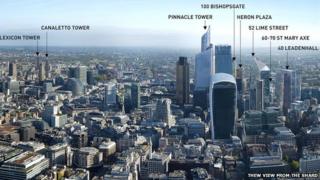 An artist's impression of how London's skyline might look in 2030 has been released by the tourist attraction based at the top of the capital's tallest building.
The View From The Shard's image incorporates skyscrapers which already have planning permission.
It includes the 64-storey tower The Pinnacle, the construction of which was started in 2008 but has since stalled.
It also shows 52 Lime Street, a skyscraper dubbed the Scalpel.
The Futuristic view of London forms part of the new Tell:scopes feature at The View From The Shard.